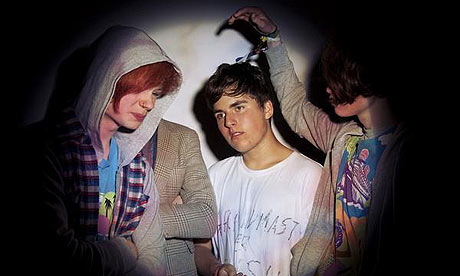 Manchester's Egyptian Hip Hop have announced that their long anticipated debut album will be released through R&S Records (James Blake, Lone, Optimo, Teengirl Fantasy) on Monday 22nd October. The album is entitled 'Good Don't Sleep' and was produced by Richard Formby (Wild Beasts, Dog Is Dead, Spectrals). The first single was released today and is called 'SYH' and you can listen to it HERE.
Here is the official press release for the album;
"Egyptian Hip Hop first emerged back in 2009 as four sparky 17-year-olds from Manchester with an uncanny knack for lush, scruffy melodies and raucous tales of guitar lessons from Johnny Marr. Their debut EP 'Some Reptiles Grew Wings', produced by Warp's Hudson Mohawke, featured a clutch of delectably angular pop songs and affirmed their singular sense of rhythm.
Following an extended hiatus, during which lead singer Alexander Hewett spent time as a touring musician for Connan Mockasin and Charlotte Gainsbourg, Egyptian Hip Hop return triumphant with their debut album on R&S Records. 'Good Don't Sleep' is a promise kept and worth every shred of wondering. The self-conscious naivety of their early recordings has dissipated, making way for a mature musicality that is invigoratingly sensual. Dancing with summer pollen and possibility, Yoro Diallo and SYH hum with the polyrhythmic intensity of 'Remain In Light'-era Talking Heads.
Spiraling sideways like a honey-drunk bumblebee, Pearl Sound and One Eyed King take a detour into the eeriness of Silver Apples. On another plane, The White Falls traces a dream from its delicate distant stirring to full crystalline crescendo. The album's crowning glory, however, is closer lltoise, a gossamer-spun composition that scales Tangerine Dream heights and evokes the sheer joy of waiting to fall.
Make no mistake: while 'Good Don't Sleep' has a deep affinity with psychedelia, it steers a thrillingly new path toward pop. This long-awaited debut demonstrates Egyptian Hip Hop's astute awareness of what has come before yet is wholly of the non-linear now. The band recorded the album with producer Richard Formby (Wild Beasts, Darkstar) in Leeds and at legendary Welsh studio Bryn Derwen, where they recall the sound of the wind blowing the trees winding its way into the record."