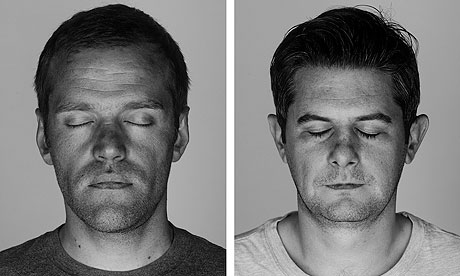 Words by Mike Emerson
As to be expected at a venue like Trof Fallowfield, it's quite a small crowd that have gathered to see the debut Manchester performance from Stubborn Heart. The electronic duo dropped a number of tracks last year which firmly seized the attention, so all that's left is to see how this translates in a live setting. There's a minimal two piece set up huddled into the corner of the room – a table loaded with drum pads and keyboards at the back, a solitary microphone upfront. As there's no support act (which is a little strange for a Now Wave show) the twosome walk stage bound through the crowd and get straight on with proceedings.
There's a definite element of shyness coming from the pair, which is no shock considering this is one of their first gigs – it's more than likely a case of being humbled at the people stood infront of them. The lead vocal is great though. It conjures up loose connections to that of Damon Albarn, albeit more measured and delicate. The music itself is blissful too. Anybody who has listened before will know that their sound is unmistakably on trend, belonging somewhat to the SBTRKT/James Blake/XXYYXX category. That said, it's a unique angle which they are offering, promoting less rave and more relaxation than their peers.
There's something about the experience tonight which just isn't clicking as well as it should however. All of tonights single elements work perfectly on their own, but together it all just seems a little dry. Trof Cafe is a brilliant venue and it offers something completely different to anywhere else in the city. The majority of times it elevates all performances, yet tonight, the close proximity to the artist is producing a weird mish mash of intimacy/awkwardness. This is probably down to the bands confidence as much as anything else and it certainly doesn't ruin the night, but it just breaks the spell a little.
As far as debut Manchester gigs go, the set was tight, it covered all of the tracks you wanted to hear and then some, and it made you want to listen to the band some more – mission accomplished then. Stubborn Heart are a sonically wonderful outfit – all in all it was a great indication of the bands future potential… They just don't seem to realise how good they are yet.
Stubborn Heart performed at Trof Fallowfield on Wednesday 23rd January 2013.