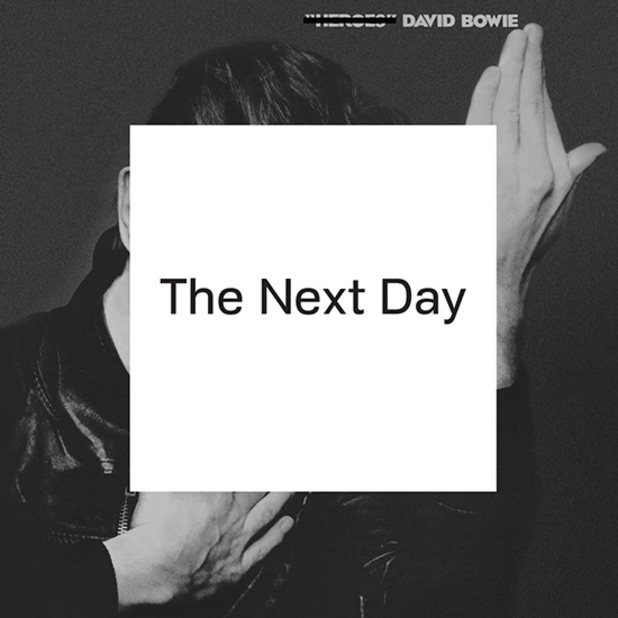 Review by Olivia Wedderburn
The rumours about the album have been rife with complimentary calls of the best come back album ever, so I was naturally intrigued/eager to have a chance to review it. I plugged in and listened to all 53 minutes in one sitting, and then I listened to it again. I don't want to be overzealous, but this album is so good, that it's taken me a couple of days to try and think of something to say that will do it justice.
Bowie proves he is back in celebration of his 66th year with the new album "The Next Day", his first release in a decade. The powerful pioneer of Glam Rock taunted fans with a hiatus, leaving original fans feeling nostalgic and new fans feeling cheated for missing out on the excitement of anticipating a new release. The shock release of "Where Are We Now" colliding with a suitably obscure, intrinsically Bowie, music video created the buzz amongst the whole generational span, Baby Boomers to the advanced Generation Z's alike, because who knew if Bowie could do it?
His silence spoke volumes to many as the end of an era but Bowies secret recording sessions to achieve the perfection of a come back album has paid off to mark a truly welcome return. But with every return comes a challenge, will they be able to pull off an album that truly encompasses their style? Too often do stars come back to try new things and take an experimental turn only to disappoint those who want to relive a specific era of their careers, but Bowie rose to the occasion, and like a best of compilation with a unique approach this album delivers hook line and sinker.
Slow moody numbers twist among thunderous guitar tracks and that distinctive crone creates a spine tingle inducing effect each and every track. The opening few songs drag back to the core of classic Bowie, ferocious music with poignant lyrics grasping every topic from mortality to sexuality, two themes that have been centric to the being of Bowie ever since the 1960's. It seems crazy to think a man in his 66th year still has a voice that drips like honey, an erotic call that entices men and women alike, still as desirable as it was in his 20's. The voice of a rock star, as Bowie proves, is their fountain of youth, even when it begins to break and crack, the final twangs still strike a chord in your gut.
The real beauty of this album lies with what many of you will have heard, "Where are We Now". Those fans who followed the "Berlin Years" with intensity, the smile that cracks your face when he opens with the lines "had to get the train from Potsdamer Platz/you never knew, that I could do that" is something special. To find Bowie revisiting this time with such sensitivity creates a multitude of emotions for artist and listener a like, the unparalleled beauty of his lyrical approach to the city he loved creating an eerie nostalgia reassuring the world that Bowies emotional intelligence transcends time.
"Valentines Day" echoes the "Scary Monsters (and Super Creeps)" with the spirit of "Ashes to Ashes" enveloping its way through the songs structure. Bowie is really keen to create a retrospective of his life with this album and there is something haunting about him confidently crooning "I'm seventeen and my looks can prove it/I'm so afraid that I will lose it" in "I'd rather be high", in true Bowie style, a brutally honest account of his aversion to war. There is no denying that this album is odd, it takes certain risks and it evaluates the essence of Bowie and tries to distribute it across moulds of records before, but it is elegant and interesting and above all, good.
Guttural and pure, tracks like "Set the World on Fire" and "Dancing Out of Space" are replicas of Bowie's definitive sound, his youthful soul entwining itself over his age. He may be 66 but Ziggy Stardust is playing his heartbeat in every track, the androgynous Bowie look and sound time warping the listener back to the beginning of his long musical career which has made him a pinnacle of rock and roll history.
Bowie draws all of this energy to a sad and somber close, which I feel, could just mean the final farewell. "You Feel So Lonely You Could Die" and "Heat" are slow and personal numbers that seem like final love letters to his dedicated fans. Although he has rather elusively alluded to making more records, he has no plans to ever tour again let alone even interview again. This could be the last of Bowie's voice we ever hear, and although the sadness this evokes is palpable, he seems to have mastered the goodbye. He has satiated those thirsty for more, he has created a collection of new takes on old tricks, and he has done it well.
At first I thought the rather grandiose reviews of "the best come back album ever" was perhaps hype of diehard fans desperate to preserve the soul of the effortlessly cool Bowie, but I can confirm, this may well be one of the best come back albums I have ever heard.
David Bowie – The Next Day is released on March 11th via Bowie's own label Iso Records (under exclusive lisence from Columbia Records). You can preview the album for free via iTunes HERE.
You can read more articles from Olivia Wedderburn via her Blogspot HERE