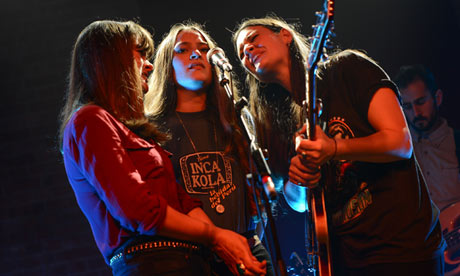 Review by Beth Walsh
After the success of their first album 'Dead&Born&Grown' released last year, Emily, Jessica and Camilla Stavely-Taylor, better known in less of a mouthful as The Staves, brought a slice of the countryside to their sell-out show at Manchester's Gorilla this evening as part of their second headline tour.
The sisters descend the stairs from the green room and get straight to business, opening with 'Gone Tomorrow', immediately entrancing the audience. Their sound is a wonderful amalgamation and synthesis of their folk predecessors from both England and America; with Simon and Garfunkel and Crosby, Stills and Nash amongst their influences. The stripped back, simplistic guitar melodies and economical percussion neatly bolster their pristine vocals; each sister possesses a distinct tone in their voice which when woven together, create dreamy harmonies.
The sweet clarity of this vocal unison is prominent throughout the performance, particularly in 'The Motherlode' and the penultimate 'Wisely and Slow', where the trio meet in the centre of the stage to offer their voices to one microphone. The audience plunge into an awed silence song after song; it's not hard to see why Wisconsin wonder Justin Vernon had them supporting him on his most recent tour with Bon Iver.
Whilst undeniably charming, The Staves are not without their sharper edges. 'Pay Us No Mind' brings a bluesy attitude to the set, with moody blue and yellow lighting accentuating this atmosphere. Their dry humour when interacting with the crowd between songs also proves that there is more to these girls than fireside sing-alongs at home. They even break out a very short rendition of R Kelly's 'Ignition', much to the crowd's surprise and delight as they erupt with cheering. By the end of the night it was as though the trio's fans had become their friends.
The encore takes a more sombre mood, with the pared down 'Dead&Born&Grown' and an a capella country cover marking the end of what has been an enjoyable acoustic experience. The sisters bow out to ringing applause, Emily with a whiskey bottle in hand, poised and ready to celebrate the final night of their tour.
The Staves performed at Gorilla on Friday 3rd May.